scotch Egg Recipe Step by Step
I personally like egg dishes as they are full of proteins, rich in taste and good for kids. I myself enjoyed making egg scotch and therefore decided to explain how to make egg scotch recipe to you through KFoods.com. I have placed pictures with each of the steps to give you a clear hint for every step. Egg scotch recipe consists of several stages that are making green chatni first, then filling boiled potatoes, and then making egg scotches finally. I recommend having it with chili garlic sauce or ketchup to fully enjoy its taste. It's preparation though takes some time but the final outcome is awesome.
Learn to make delicious egg scotches to enjoy at evenings, at iftar, as lunch side items or to serve to the guests. I have presented the complete recipe in Urdu through KFoods.com. Enjoy the recipe below.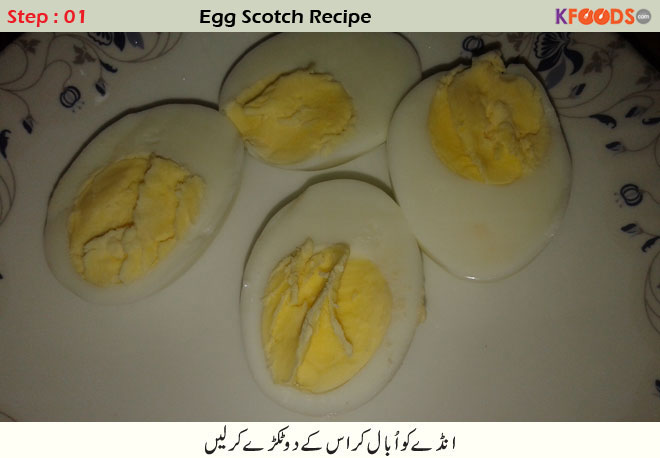 Boil eggs and halve lengthwise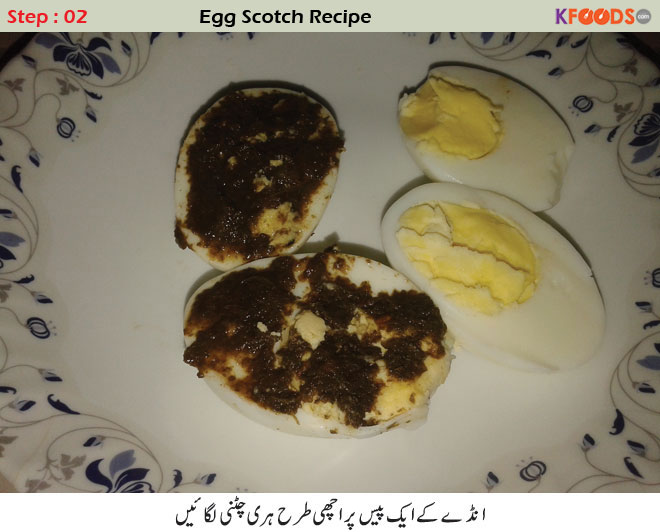 Apply chatni on pieces of eggs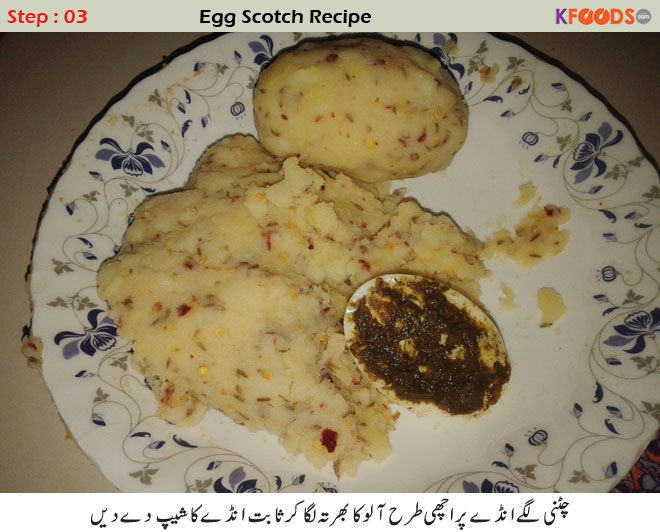 Wrap egg with potato mixture and form it like whole egg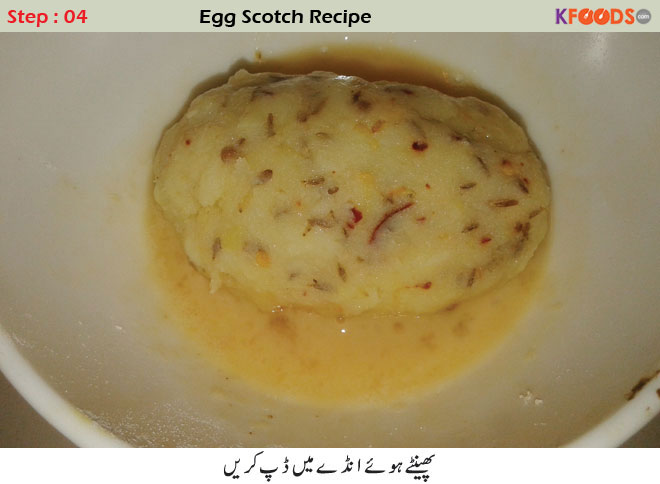 Dip in beaten egg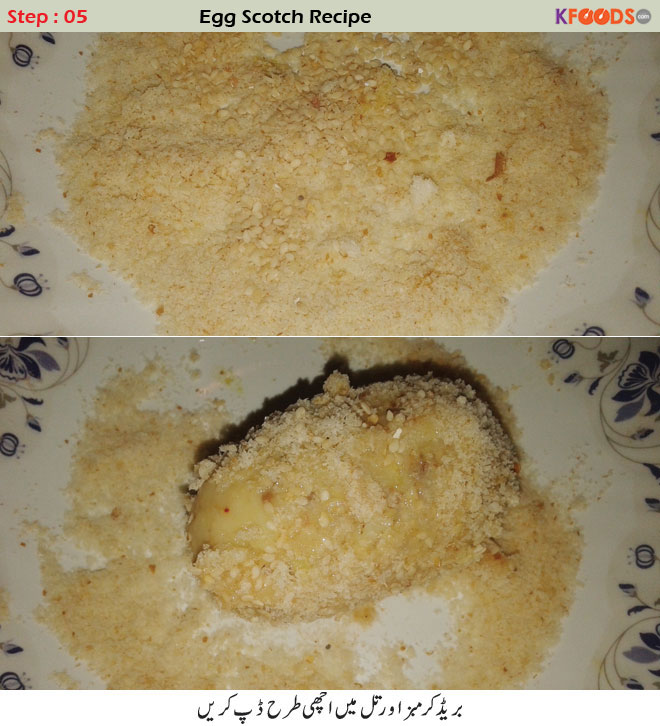 Roll in breadcrumbs and cumin seeds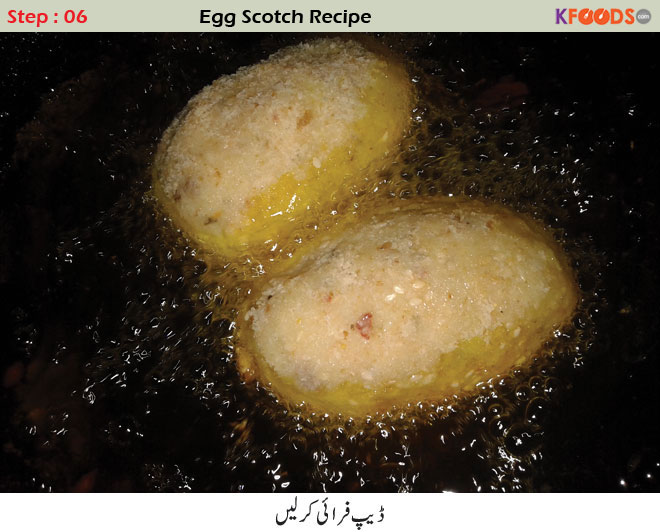 Deep fry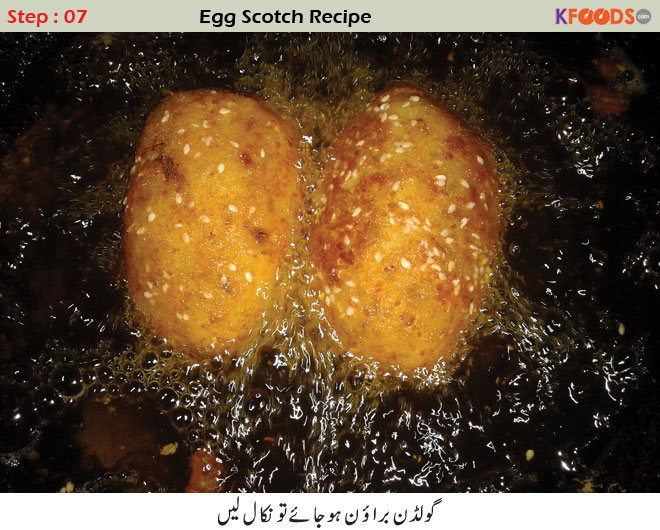 When it is golden brown in color, take out in a dish.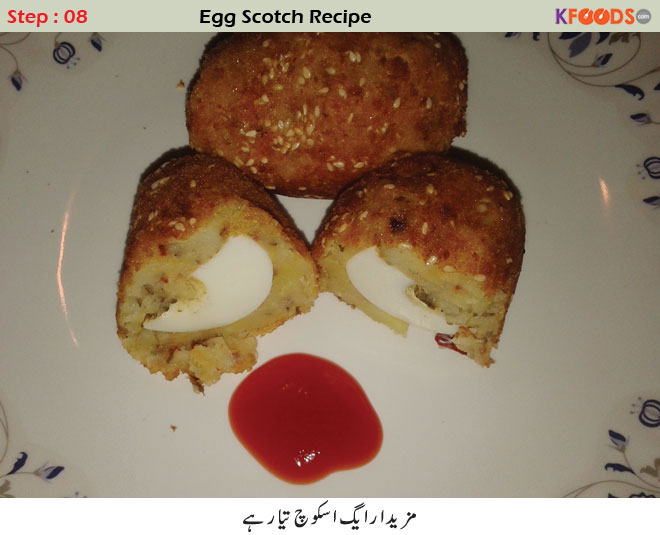 Delicious Egg Scotch is ready to serve!

SOFT BOILED EGG SCOTCH RECIPE
Ingredients:
Raw Egg: 1 (beaten)
Boiled Eggs: 2 pcs
Green Chatni: as required
Breadcrumbs: as required (1 cup)
Boiled Potato Mix (Bharta): 2 pcs
Cumin Seeds: 2 teaspoons
Method

Green Chatni:
Ingredients for Green Chatni:
Green Coriander: 1/2 bunch
Mint: 1/2 bunch
Green Chilies: 2 pcs
Tamarind: as required
Salt: as required
Method for Green Chatni:
Grind green coriander, mint, green chilies and tamarind either in a grinder or with a grindstone. Add salt as required.
NOTE:
Make thick paste of chatni otherwise it won't stay on the egg.
Ingredients for Boiled Potato Mix (Aloo Bharta):
Boiled Potatoes: 2 pcs
Salt: as required
Crushed Red Pepper: 1/2 teaspoon/as required
White Cumin: 1/4 teaspoon
Chopped Coriander: 1/2 teaspoon
METHOD:

Boil potatoes and peel its skin off. Mash by pressing with hands.
Add salt, chopped coriander, red pepper and white cumin to mashed potatoes and mix
well. Potato mix is ready.
Preparing Egg Scotches:

Halve boiled eggs lengthwise. Apply green chatni on inner sides of egg pieces. Then wrap potato mixture around the egg like it were a whole egg.
Now dip that potato-wrapped egg in the beaten egg, then mix cumin with breadcrumbs and coat dipped eggs with breadcrumbs. Prepare all eggs likewise.
Heat oil in karahi/pan and deep fry all eggs.
When they are golden, transfer them on a kitchen tissue.
Delicious Egg Scotch is Ready. Enjoy with ketchup!